Cae'r Saeson, Gellilydan, Gwynedd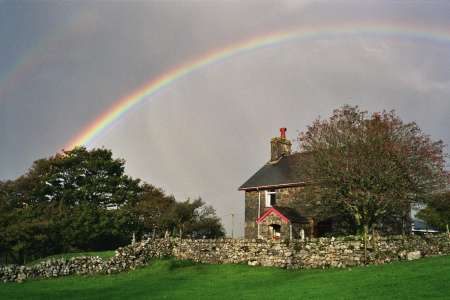 GENERAL DESCRIPTION Cae'r Saeson is a modest stone built house, once the farmhouse of a small hill farm. If you want to see more pictures then just click on this link!
It is situated about half a mile to the South West of the village of Gellilydan and set in 20 acres of its own pasture. Its elevation is about 600 feet. It stands in a shallow saddle East of and above Ceunant Llennyrch with views West to Lleyn, North to the Moelwyns and East to Llan Ffestiniog, Blaenau Ffestiniog and the hills beyond. It is situated within the Snowdonia National Park and well placed for walking in the Rhinogs and the Moelwyns and within easy driving distance of Snowdon and its surrounding peaks, Cader Idris, the Arenigs and the Arans. Any number of walks in the northern Rhinogs can be started straight from the house. Mediaeval Castles - Harlech, Criccieth and Dolwyddelan - and even a Roman fort, Tomen y Mur - are easily reached. The map reference is SH678386.
ADDRESS The proper postal address is:
Cae'r Saeson
Gellilydan
nr. Blaenau Ffestiniog
Gwynedd LL41 4EY
The telephone number is Maentwrog (01766) 590602
ACCESS Access is not straightforward. You need to find the A487, between Trawsfynydd and Maentwrog. Turn off (left if you are coming from Trawsfynydd) at the sign for Gellilydan. Almost immediately fork left by an old shop. Continue past a pub on the right, the Bryn Arms, and out of the village. After about quarter of a mile the road turns sharply right. At that corner turn left onto a track then immediately right onto another track with a wall on the right and fields to the left (I'd drive to one side - nearer the wall). Continue over a cattle grid, until just before a gate when a slight track leaves down a slope to the left. Take this, through a gate*, then rising across a field, through a gap in a wall and then round to your left where you will have been able to see the outbuildings of what was the farm. The house itself will probably have been all but concealed by trees. The track leads through a closed gate* into a yard where you park. There is a lean-to garage which belongs to Cae'r Saeson. The path from the yard leads to the back door - the one everyone uses.
*Countryside code: please close gates you find closed.
ACCOMMODATION Cae'r Saeson has four rooms arranged as bedrooms. Upstairs there are two double rooms (one with double bed, one with twin beds) and a smaller room (with a combined single/double bunk bed: one above two below). The loft of the back extension also has a double bed settee and a single bed. There are at least six sets of crockery/cutlery, eight of smost things, and basic cooking equipment. There is a shower (gravity fed, thermostatically controlled) in the bathroom. The new back extension has a lobby cum utility room and a toilet/shower room.
ELECTRICITY The house has mains electricity.
HEATING The house has electric storage heaters, usually off in summer, an open fire in the living room, a solid fuel Aga in the kitchen and a small selection of electric fires/heaters.
WATER The house has a private water supply: a well, plumbed in and electrically/automatically pumped. Its water should be perfectly drinkable. The supply is piped to a normal water system, hot and cold, flushing toilets, etc.
COOKING ETC. There is an electric oven and hob as well as the Aga, a microwave oven, an electric kettle, a toaster, a fridge and a fridge/freezer and a dishwashing machine. There is also a small freezer permanently on in the low barn which might have spare space.
PHONE & BROADBAND There is a BT phone. Mobile reception is a bit on and off. The house has Orange Broadband - and this should offer web access to anyone with wi-fi or an ethernet socket.
PARKING Cars can be parked in the lean-to garage, in the barnyard or on the track by the house - not in the garden!
SHOPPING There is no longer a shop in the Village. The main local shopping centres are Porthmadog, Penrhyndeudraeth ("Penrhyn"), Blaenau and Harlech.
LAUNDRY There is a washing machine There are launderettes in Porthmadog and Blaenau.
CLEANING In general I leave it to users to keep the house clean: they are all friends or friends of friends, most have been before. I try to have the house checked by a neighbour between visits, if possible.
PETS Pets can be a problem and thus there are rules. If you want to bring one please ask first.
WHAT TO BRING You need to bring:
a. Bottom sheets, duvet covers and pillow cases (there are duvets and pillows for each bed);
b. Towels;
c. Tea towels/drying cloths;
d. Food and drink.
Most household consumables should be in the house (toilet paper, washing up liquid, various dry, non-perishable food items). Please replace what you use as appropriate. **Only WHITE toilet paper please - for complex (biological) reasons**
IF YOU WANT TO BORROW THE HOUSE The house is available to friends and friends of friends and I charge a rent which covers the marginal costs and makes a contribution towards other running costs. The school holiday/half term holiday rate is £42 per night, £126 for a weekend and £255 for a week, with discounts negotiated at other times. At busy times I try to run lettings from Saturday to Saturday.
The charge has always been inclusive of fuel, electricity and household consumables (though you may have to split some logs). I may asked for a deposit: otherwise it has seemed simpler if people pay afterwards, when you can add the cost of any expensive phone calls and deduct anything you have had to spend on behalf of the house.
A fuller version of these details, with instructions on what to do on arriving and leaving, other useful local information and some suggestions for walks is in a black folder on the front kitchen window sill.
---
2 July 2010